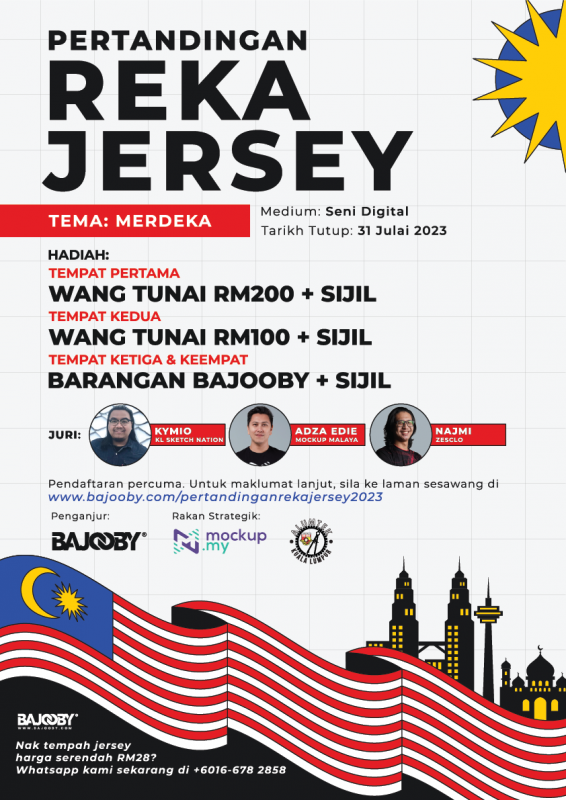 Cara-cara untuk sertai pertandingan
*PERHATIAN! Pertandingan ini hanya untuk yang berumur 17 tahun ke bawah sahaja.

1. Muat turun template yang kami berikan (sila klik di sini.)

2. Reka jersey anda pada template yang telah di beri mengikut tema "MERDEKA"
3. Isi borang pertandingan (sila klik di sini) dan muat naik rekaan anda dan tekan butang Hantar.
4. Selesai. Tunggu panggilan dari pihak kami sekiranya anda berjaya memenangi hadiah yang telah disediakan.
Ada soalan? Hubungi kami di talian +6016 678 2858
BAJOOBY JERSEY DESIGN CONTEST "MERDEKA" TERMS & CONDITION
CONTEST THEME : Merdeka (17 years and below)

HOW TO ENTER :

Download our Template Design Kit

DESIGN AN ORIGINAL DESIGN JERSEY ACCORDING TO THE THEME GIVEN

SUBMIT YOUR DESIGN AT OUR SUBMISSION PAGE

RESTRICTIONS FOR ENTRY.

You are welcome to enter (ONE ENTRY ONE DESIGN). If submitting more than one (1) entry/design, each entry/design submitted must be unique and different: PLEASE DO NOT SUBMIT THE SAME EXACT DESIGN MORE THAN ONCE. Violation of entry limit will result in only the initial entry/design being accepted. However, if Bajooby determines its sole discretion that a person has engaged in egregious, repeated or blatant violations of the entry limit, such person will be disqualified from the Contest altogether and all his/her entries/designs declared void.

Proof of submission does not constitute proof of receipt or proof of entry.

Technical specifications for designs are set using .ai and .tif format for designing, but need to submit using only .ai files and JPEG(2 total files). In the event of any inconsistency between such technical specifications and these Official Rules, the technical specifications will prevail, govern and control regarding the acceptable parameters for the design; in all other respects, these Official Rules will prevail, govern and control.

Make sure you are satisfied with your design prior to submitting your entry, as changes to the design once it is submitted are not allowed.

Design must be submitted at time of entry period; partial submissions will NOT be accepted. THE DESIGN MUST "SPEAK FOR ITSELF." We don't need any design statement for the design.

Entries MUST BE GENERATED by our Design Submission Requirement.

In the event of a dispute over the identity of an entrant, entry will be deemed submitted by the Authorized Account Holder of the e-mail account provided on entry form, as of date of entry. Authorized Account Holder means the natural person who is assigned to an e-mail address by an Internet access provider, on-line service provider, or other organization that is responsible for assigning e-mail addresses for the domain associated with the provided e-mail address.

RESTRICTIONS ON CONTENT OF DESIGN. 

Content that may infringe the trademark or copyright or other intellectual property rights of someone else (e.g., brand names or logos, product names, events, professional sports teams, or photographs or artwork belonging to someone else) ARE NOT ALLOWED.

A Name or nickname or symbol or image associated with another person (living or dead) ARE NOT ALLOWED unless you have that person's consent;

Content that may be or may contain images that are insulting, abusive, inciting violence, threatening, intimidating, obscene, inflammatory, sexually explicit, profane, offensive, harassing, derogatory, degrading, defamatory, harmful, discriminatory or unlawful or invasive of another's privacy will be DISQUALIFIED.

Personal information (e.g., phone number, e-mail address of entrant or any other person) ARE NOT ALLOWED and can be DISQUALIFIED.

Disparages or damages the goodwill and/or business reputation of Bajooby brand.

GRANT OF RIGHTS IN DESIGN. 

In exchange for the opportunity to participate in the Contest, as good and valuable consideration, the receipt and sufficiency of which is hereby acknowledged:

Entrant (and, if a minor, his/her parent or legal guardian), as applicable, further

waives any "Moral Rights of Authors" or similar natural rights of ownership he/she may have in the design; and

agrees, upon Bajooby's request and without compensation of any kind, to execute any additional documents so as to effect, record or perfect the grant of rights contemplated by this Rule.

Entrant (if a minor, his/her parent or legal guardian) further understands and agrees that

Bajooby has wide access to ideas, stories, designs and other literary/artistic materials submitted to it from outside sources or being developed by its own employees and that such ideas/stories/designs/literary/artistic materials may be competitive with, similar to (or even identical to) entrant's design and that Bajooby shall have no liability to such individual or any third party in conjunction therewith; and

Bajooby and its agencies do not have any duty of confidentiality or other fiduciary duty to entrant relative to entrant's design.

Winning design will be on sale at Bajooby website and all the design files submitted to us will be our rights to reproduce. The winner will entitled 10% of royalty each of the sales.

POSTING OF DESIGNS.

If Bajooby, based on its preliminary and non-binding determination, concludes that an entry/design is eligible, the design will be posted on the Contest Website and will participate in the 1st Round judging as described below. Such posting does not, however, constitute any representation of selection of entrant as a potential Finalist or as the Grand Prize winner in the Contest. BAJOOBY MAY LATER REVERSE OR RESCIND A PRELIMINARY DETERMINATION THAT AN ENTRY/DESIGN IS ELIGIBLE WITHOUT EXPLANATION, NOTIFICATION OR LIABILITY OF ANY KIND.

Persons should allow approximately one (1) business day for Bajooby to conduct its preliminary review of entries/designs.

THE POSTING OF AN ENTRY/DESIGN REPRESENTS SOLELY THE VIEWS/OPINIONS OF THE APPLICABLE ENTRANT AND DOES NOT REFLECT THE VIEWS/OPINIONS OF BAJOOBY IN ANY MANNER. BAJOOBY IS MERELY REQUESTING PERSONS TO PROVIDE A DESIGN AND DISCLAIMS ANY AND ALL LIABILITY IN CONJUNCTION WITH SAME. BAJOOBY WILL NOT EDIT OR MODIFY DESIGNS SUBMITTED AS ENTRIES IN CONJUNCTION WITH OFFERING THE CONTEST.

JUDGING DESIGNS

Round 1 : Submission Period : 1st July – 31 July 2023

Round 2: Facebook Public Voting (Most Like) : The public can vote on all designs from 3rd August to 20 August. Only 10 Entry will be selected.

Round 3 : Panel Judge Voting : The panel judges will select the winner for the best idea and design according to the theme given.

Winner Announcement : Bajooby.com Facebook Page on 31st August 2023, 10PM.

Potential Finalists will be notified by e-mail

10 Finalist needs to Share Our Facebook Post and get as many like on their design post as they can to be a winner.

Any vote total posted on the Contest Website for a given design submission may be revised or altered by Bajooby at any time without liability or notice of any kind. Bajooby disclaims any liability in conjunction with any erroneous or outdated vote tallies posted on the Contest Website.

An individual will not receive compensation of any kind in conjunction with voting.

The use of automated, robotic, or programmed voting mechanisms or any other device or artifice so as to manipulate or undermine the legitimacy of any public vote is prohibited

By voting, you (if a minor, your parent or legal guardian) agree to cooperate fully with Bajooby upon request and without compensation in any investigation that Bajooby may undertake so as to confirm the legitimacy of any public vote.

By participating, you (and, if you are a minor, your parent or legal guardian) understand and agree that the design as posted on the Contest Website when participating in the 1

st

Round judging phase of the Contest may differ from the content you submitted as an entry due to technological limitations, malfunctions, failures or errors.

PRIZE RESTRICTIONS

There are no awards of prize ceremony will be held. We will contact the winner via mobile phone/emails as the winner announced.

All cash prizes will be transfer via online banking/cheque/cash to the respective winner

We will send the consolation prize to the winner via postage according to our time availability.

Winner needs to took a photograph off themselves receiving the prizes and send to us for publicity purposes.